MISSOURI − The Department of Health and Senior Services has its COVID-19 dashboard to include breakthrough cases of COVID-19, reinfections, and probable deaths.
Breakthrough cases are defined as COVID cases among the fully vaccinated. A person is considered fully vaccinated two weeks after the course of vaccinations is completed.
"The main purpose of the vaccines was to reduce the severity of illnesses leading to hospitalizations and deaths, and they were never believed to prevent 100% of infections," DHSS said in a press release. "Getting infected with SARS-CoV-2 (virus that causes COVID-19) after being fully vaccinated is called a breakthrough infection and is still relatively rare."
According to the DHSS, among those who are fully vaccinated in Missouri, 2% have developed an infection after exposure, and 0.02% died from COVID-19.
The state dashboard has also added COVID-19 reinfections to the dashboard. A reinfection occurs when someone tests positive, recovers, and tests positive again after 90 days or more.
Prior to the update, each "case" represented an individual Missourian. Now a total number of cases will represent individual infections among Missourians.
More than 6,300 Missourians have had reinfections, according to the dashboard.

DHSS has also added a probable deaths section. Probable deaths on the dashboard represent those who were positive by antigen testing and determined to be a COVID-19 death, or individuals identified through vital records death certificate with no associated positive lab test.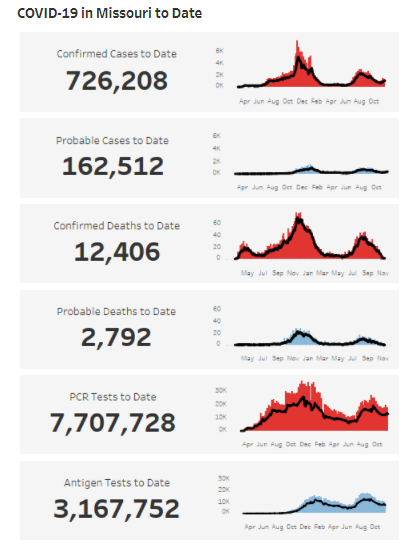 The dashboard previously had a section for probable cases – probable, meaning the subjects had a positive antigen test. Probable cases now also include epidemiologically linked cases, that is, people who meet clinical criteria and were in close contact with a confirmed or probable case, but did not have a confirmed positive test.